How Thick Should Memory Foam Mattress Toppers Be?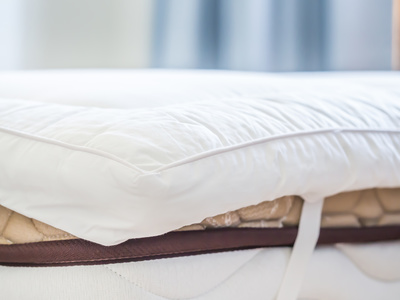 To buy a mattress topper, you need to have proper knowledge and understanding of the different quality, comfort levels, and thickness. So, how thick should memory foam mattress toppers be? It might seem simple, but unless you have complete knowledge, it might become tough to choose the perfect foam mattress topper for you. In this article we will discuss why the thickness matters and how to get the proper thickness for your needs. Keep on reading to find out more.
Do Memory Foam Mattress Toppers Work?
The answer is simple, yes they work. If you are looking for some pressure relief for either your naps or your night's sleep, then memory foam toppers are the best material you can use. If you suffer from chronic pain, then this is also effective in certain cases.
How to Choose a Memory Foam Topper
Depending on your requirement and body weight, the thickness of your mattress topper might vary. Here are some pointers to help you choose the correct topper for your mattress.
Check Mattress Type and Size
You should, of course, opt for a mattress topper with the same dimensions as your current mattress. Make sure you measure it prior to checking online or an offline store. If you have a special topper in mind, or if you're planning on doing some research before buying, make sure you read what other people have to say about their purchase. Customer reviews are the biggest help to knowing what it will be like in your home.
This is especially important with choosing a size. Some people might have discovered that one brand or one size of a topper is smaller than the dimensions advertised. If this is the case, you have to choose a bigger size topper than you originally planned, or go with another one.   
Remove Your Toppers/Pads
Mattress pads, which are thinner than toppers, help you to protect your mattress, but not cushion it. So, before you go ahead and measure for your new foam mattress topper, make sure that you remove the topper pads. To obtain best results, use only one topper per mattress.
Check if Your Mattress Has Any Damage
If your mattress is a bit old, make sure that you inspect it properly for signs of wear and tear. If there are certain areas, which have been worn out due to poor weight distribution, then you need a topper, which is thicker than 3 inches. They will not only provide cushioning, but also help in the proper distribution of the weight.
Consider the Foam Density
You need to consider the memory foam density because denser materials will offer greater support for you, while less dense materials will make it an uncomfortable experience. If you want to have a noticeable experience, a density of 2 inches is perfect for average people.
Memory Foam Mattress Topper Thickness
Now that you have a proper idea of memory foam mattresses and its density, let's have a look at what topper thickness is suitable for you. Based on your health conditions and weight, you can choose any one of the following.
Memory Foam Topper: 2 Inches
This type of memory foam mattress topper will provide you with the following benefits:
Medium pressure relief on your body while sleeping

Average comfort level

This is perfect for smaller built people

This is one of the least expensive toppers available on the market
Memory Foam Topper: 3 Inches
Let's look at the most common characteristics of this thickness of topper:
This is the most common type of mattress topper on the market

It provides you with excellent comfort only if you put it on a firm mattress

Your back and joints will get pressure relief  leading to less pain

It might not be too comfortable combined with a new mattress, but a great budget friendly option for you, with high comfort level
Memory Foam Topper: 4 Inches
The benefits of 4 inch memory foam toppers are as follows:
This is the perfect topper thickness for you if you want both comfort and pain relief

It also provides you with supportive functions while being soft on your back

Due to the presence of foam gels and a higher thickness, the topper forms according to your body contours

If you are looking for a topper with body support and softness, this would be your best option
Memory Foam Topper: 6 Inches
If you buy a memory foam mattress with 6 inch thickness, it is perfect for therapeutic use. In addition to that, here are the specific benefits:
Helps to retain your posture

Helps in pain relief

Good for patients suffering from joint pain and arthritis
Checklist for Buying Memory Foam Mattress Topper
If you have asked yourself repeatedly, 'how thick should a memory foam mattress topper be?', here's a checklist for you. Make sure you check out these points before you buy one:
You should know the purpose, is it for regular or therapeutic use?

What's your budget?

What is the condition of your mattress? Is it worn out?
The Takeaway
So, how thick should  memory foam mattress toppers be? I hope that you now know about mattress toppers and how to choose the perfect one for you. Remember to be smart about your choice, this is your sleep we're talking about after all.
Have you found your favourite mattress topper yet? If so, leave a comment and share with us below!