📚Is Your Insomnia Caused by An Iron Deficiency?
Disclaimer: There are affiliate links in this post. At no cost to you, I get commissions for purchases made through links in this post.
An iron deficiency affects more than one million people in Australia and despite being preventable it's being seen more frequently. Iron is an essential mineral that helps make red blood cells that carry oxygen around the body. Low levels of iron in the body does not directly cause sleep problems, but the symptoms can. Symptoms, such as restless leg syndrome, can make it difficult to fall asleep and stay asleep. Women are more likely to have an iron deficiency and should consume more than double the amount of iron as men to avoid a deficiency and the symptoms that come with it.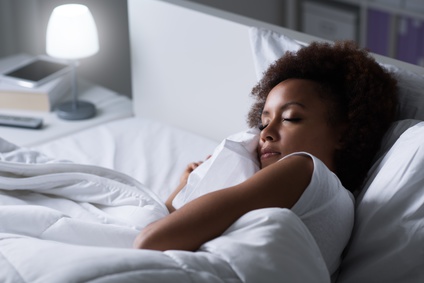 Who Is Most at Risk Of An Iron Deficiency?
An iron deficiency occurs if you're not consuming enough iron, your body can't absorb it properly or if you're losing it quicker than it can be replaced. Iron is lost when the body is bleeding, so women are more at risk due to their monthly cycle, but anyone losing blood for any reason is at risk. Pregnant women have a high risk of developing an iron deficiency due to the demand on their body. Their blood supply increases and iron levels need to serve their own body as well as being a source of haemoglobin for their growing foetus. Anyone who has a intestinal disorder is at risk as their body can't absorb iron very easily, which is often seen with Celiac disease. If part of your intestine has been removed or bypassed surgically this can also affect the body's ability to absorb iron. 
Symptoms of an Iron Deficiency 
Common symptoms of low iron, or anaemia, include fatigue, restless leg syndrome, palpitations, headaches, tinnitus and loss of appetite. These can all have an impact on the ability to fall to sleep and to stay asleep. Fatigue caused by an iron deficiency is not the same type of fatigue caused by lack of sleep, so it doesn't necessarily make it any easier to fall to sleep and can actually make it more difficult. Restless leg syndrome, palpitations, headaches and tinnitus can all make it difficult to fall to sleep as it makes you uncomfortable when trying to rest. A loss of appetite can result in iron levels becoming even lower and other deficiencies can occur too, so trying to eat regularly throughout the day is important.
Restless Leg Syndrome Linked to Insomnia
Restless leg syndrome is a neurological condition where there is an uncontrollable urge to move the legs, usually due to discomfort. The strongest and most consistent environmental risk factor for developing restless leg syndrome is an iron deficiency. Many people report that their symptoms get worse at night and includes creeping, crawling and pulling sensations in the legs. Restless leg syndrome is one of the biggest causes of sleep problems in people with an iron deficiency and 90% of people with restless leg syndrome report that they also have insomnia.
Painful Leg Cramps
If you're body doesn't have enough iron it won't be able to produce enough oxygen-carrying red blood cells. When muscles don't get enough oxygenated blood because of on iron deficiency it can cause cramps, often in the extremities. The legs are usually affected as they are furthest away from the heart, so the blood has further to travel. Cramps will be worse when you're using your body more as the heart needs to work harder, but they can last for hours and affect your bedtime routine. Similarly to restless leg syndrome, cramps can have a huge impact on your ability to fall to sleep and stay asleep throughout the night. They can also exacerbate restless leg syndrome symptoms making it very uncomfortable and painful.
Treating the Cause Instead of the Symptoms
For restless leg syndrome, when the iron deficiency is treated symptoms usually improve or disappear completely. This supports the link between the two and helps to show that the cause of sleep problems need to be addressed, rather than the symptoms. Sleep problems, such as insomnia, can be treated with sleeping pills, but a better solution is to get iron at the correct levels in the body to reduce and eliminate the symptoms that lead to sleep problems. Treatment comes in many forms, but the best way is the natural way as it eliminates side effects. Increase the amount of iron you consume through your diet by eating healthy, rich sources, including dark, leafy greens, pulses, seeds, grains, fish, chicken and lean red meat.
An iron deficiency is a common cause of sleep disorders, especially insomnia, but it's often overlooked, despite being easy to diagnose with a blood test. If you have sleep problems which occurred around the same time as other symptoms of an iron deficiency then it's worth speaking to you doctor and requesting a blood test to confirm, or rule out, that iron deficiency is the cause.