📚5 DIY Projects for the Bedroom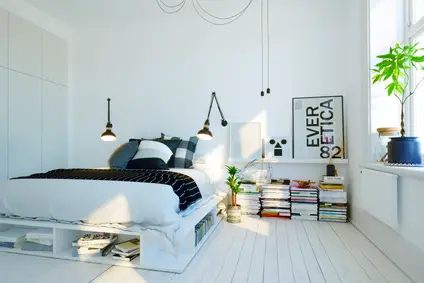 We spend so much time in our bedrooms that they are, arguably, one of the most important parts of the house to do up as best as possible, because you'll benefit from the results so much more. In this article we will be looking at 5 easy DIY projects you can do in your bedroom to spruce it up and refresh it with just a few hours of work.
Before You Start
Before you begin with your DIY improvements you must ensure that you have all the materials and time you need to complete the job. You can use a budget calculator to make things easy and determine a projected cost. Furthermore, you need to make sure you have allotted enough time to complete the project, especially when you are embarking on small scale work in your bedroom. You don't want to have to leave too much mess or incomplete work at the end of the day because you're going to want to sleep in there at night.
All of the ideas in this article are feasible to do in an afternoon, but if you decide to go for something more complicated you will need to consider providing alternative sleeping arrangements for yourself and anyone else who shares your room with you.
1. Headboard
The headboard of your bed is a great place to start to instantly rejuvenate your room. It's one of the largest object in there, and can become a lovely centerpiece to add color and vibrancy. The trick here, of course, is to create something unique that reflects your personality.
You can use virtually any material you want to make a new headboard- from old doors and gates, to fluffy fabrics or more traditional tufted ones. This can be done for a decent price- you could create a tufted one for less than 100 dollars, for example, by buying the fabric, foam, and wooden supports you need and doing the rest yourself.
If you don't want to purchase too many materials, you can even make a new headboard by simply using unwanted items from around the house. How about stacking lots of books on their spines and letting them fly open, use a piece of wood you paint yourself, or using an unwanted door that can be re-painted to look however you want it to.
2. Windows and Curtains
Your windows are what determine how much light enters your room and, with curtains, the control you have over this when you are asleep or awake. This also means that the window space is one of the main focal points of the room because it provides the greatest light source. You can do a number of quick things around your windows and curtains to instantly brighten and liven up your room– and they won't cost you much to do.
First start by giving your window frames a good clean to remove the dust and muck that easily collects around these areas or you can use vacuums for hardwood floors. To make the most of the light that enters it's best for your window frames to be as light a color as possible, so you may want to repaint them with a bright white.
Similarly your curtains will make a big difference to the feel of your room and depending on how you like to sleep, you should consider using ones that let light through while still providing privacy- something that will make for a beautiful start to the day.
3. Shoe Storage
If you have a lot of shoes around the place without a specific place to store them, then you can easily make a shoe rack for your bedroom to display them and keep them organized. This doesn't have to be a difficult task, you can purchase shoe shelves that attach to your door, for example, or even use a bookshelf turned on its side, which will provide plenty of space to store them and look great at the same time.
4. Shelving
One of the most common wishes is that there was more space to store items, and a really easy way to do this is by putting in extra shelves. This makes use of the room on the walls, which aren't being used for anything else. It's a job that'll take a few hours at most (depending on how many shelves you want) and all you will need is the wooden boards that will act as shelves, brackets to attach them to the wall, and a drill so you can secure them into place.
If you live in a place where you don't have permission to drill the walls, you can still add shelves by purchasing a freestanding unit. Lots of different types of discrete ones are available from furniture stores or online, and it'll simply be a case of building them and putting them in place.
5. Wardrobes
We often turn to cheap stores to get our wardrobes, but it doesn't take too much effort to make them look slick and elegant. You could, of course, paint them a new color- but why not consider adding mirrors to the front, a beautiful looking fabric, and you can replace the handles or knobs of the doors with something more to your liking.
You should see the wardrobe you get as a starter model, with all sorts of different ways you can improve it and make it unique to your style. The inside of the wardrobe can also be adapted to be more efficient in terms of storage, with the ability to buy foldable shelves that hang from the hanger rail and you could add lighting to make it an inviting environment.
The Final Word
As a place we spend a lot of time in, our bedrooms are one of the most important rooms in our homes to make comfortable and practical. Storage is always a problem, no matter how big your house is, so you can use the space more effectively in a number of ways. Other than that, there are also a few easy things you can do to improve the amount of light that gets through the windows, and make the centerpieces of the room, like the curtains and headboard, more appealing.