📚How to Calm Down an Overactive Mind at Night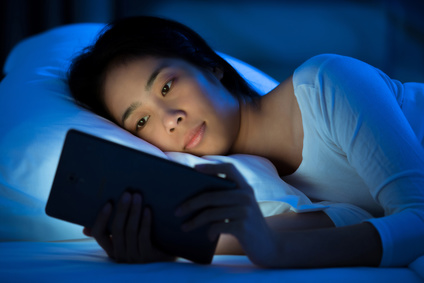 Almost a third of adults in the west don't get enough sleep at night, and almost 20% of us have trouble getting to sleep, with chronic sleep problems rife in men and women across the country. One of the major contributors to this is having an overactive mind at night. When your mind is racing and you can't stop thinking, it's almost impossible to relax and get to sleep, and any sleep you do get is going to be broken and not very restful.
That's why it's important to know how to shut your brain off at night and relax, so when you get to bed and lay your head down, you get the maximum amount of restful, healing sleep possible. There are loads of reasons why you might have an active mind at night, but once you know what you're doing and why this happens it becomes much easier to deal with the problem.
Get a Proper Sleep Schedule
The first thing that can cause an overactive mind is a varied sleep schedule. Now, I know as well as you do that life is crazy, and sometimes we just can't get an early night. But it's important to try and get as regular a schedule going as possible.
Routine is Important
Our minds learn routines, and they're really good at learning what we do and when we do it, and our mind will dump hormones into our bodies to prepare it for what it thinks is going to happen, even if that's not what's going on.
Ever felt hungry at lunchtime, even though you only had a snack an hour ago, and by all rights you shouldn't be eating? That's because your mind has learned that it eats at certain times, and it tells your body to be ready for food, no matter when you last ate.
Sleep is exactly the same. If you're going to sleep and getting up at the same time every day, your mind learns to start winding down at a certain time, so by the time your head hits the pillow, you're already well on the way to falling asleep.
Irregular Hours
But when you wake up and fall asleep god knows when, your poor brain gets frazzled and has no idea what's going on. It's the same as being jet lagged. Your mind doesn't know what time it is, and has no idea what it should be doing.
What this means for you is that when you lie down to go to sleep, your body isn't ready, so you have to go through the whole process, from start to finish, which can take a good long while. And all that time you'll be lying there frustrated, wondering why you can't sleep.
Deal With Your Electronics Addiction
Another thing that keeps us awake is using electronics close to our bedtimes. Or worse, in our beds. Hands up anyone who has ever lied in bed with their phone a few inches from their noses. I know I have. This is literally the worst thing you can do to stop your mind racing at night.
First, you've got the obvious. Once we get our phones or tablets out and click onto Facebook or Youtube, we fall onto the digital treadmill. We all know how addictive these things are, even if we don't want to admit it. Plus, it gives us a whole lot more to think about. This also includes the TV. It's got all of the same problems. So switch it off!
The Blue Light Curse
Second, there's actually two types of light. Blue spectrum light and yellow spectrum light. As the sun goes down through the day, the light it produces shifts from blue to yellow. Our minds, as the clever things they are, have evolved over thousands of years to react to this yellow light, and they use it as a signal to start getting ready to sleep.
All of our electronics produce light that's mainly in the blue spectrum. This is great during the day, but at night when we're trying to sleep, blasting our eyeballs with a burst of blue light actually tricks our minds into thinking it's the middle of the day again. Which obviously doesn't help us sleep.
Put Away Your Phone in Time
It's recommended that you don't use anything electronic for an hour before you sleep. Obviously, we know how hard that is, but shut everything down as far away from your bed time as possible, and absolutely never use anything when you're lying in bed.
There are also apps you can download that change the light coming from our screens from blue to more yellow. These could be worth a look if you absolutely have to use your devices at night, for example for work.
Give Yourself Time to Wind Down
Like we've already discussed, your mind needs time to slow down, stop thinking and shut off at the end of the day. There are loads of ways you can do that, including:
Reading Fiction
Reading fiction is a great way to get our minds off of the day because it literally transports our minds away from our own lives, at least for a little while. Fiction is also good because it's not physically demanding, and once you're sleepy, getting to sleep is as simple as putting down the book and clicking off a lamp.
Relaxation Exercises
Whether it's meditation, a 5 minute gentle yoga workout before you get into bed, breathing exercises, or simply relaxing for a few long minutes in a hot bath, anything that relaxes the body and allows the mind to drift away is great for shutting down the mind and getting to sleep.
Write Notes
If you've got lots of things running through your head, then the best thing to do is literally perform a brain dump. Grab a piece of paper and a pen (for some reason writing it down physically works so much better than using something electronic. Also, no electronics!) and write down everything that's on your mind.
Whether it's things you have to do tomorrow, worries you might have, or just random thoughts that won't go away, getting it down onto a piece of paper tricks your mind into thinking that you've dealt with it. Once you've done this, you'll realise that your mind quietens down almost instantly. It's almost like magic.
Your Bed is Made for Two Purposes
One last thing I recommend is to only use your bed for two things. Sleep, and sex. When you watch TV in bed, or do anything else, it teaches your mind that the bedroom can be used for more than just sleeping. If you only ever lie down in your bed when you're going to sleep or with your partner, you teach your brain to get ready as soon as you lie down.
What You Should Do
So remember, you just need to follow this simple three step program to get a better night's sleep.
Get a proper sleep schedule, and try to go to bed and wake up at the same time every day

Switch off all of your electronics an hour before bed

Give yourself time to switch off and calm down after a busy day, however you can
The Takeaway
If you follow these three simple steps, you'll find the length and quality of your night's rest increases naturally and easily, and you'll wake up prepared and ready to take on tomorrow. If you've ever experienced an overactive mind at night, or you've got any stories or tips to share, remember to comment below. And happy sleeping!